October 6, 2019. October each year is Breast Cancer Awareness Month and is marked in most resource-rich countries by both public and NGO efforts at multi-channel dissemination of health information to increase attention and support for awareness, early detection and treatment as well as palliative care of breast cancer.
Similar intense and structured efforts cannot be said to occur in many countries in Sub-Sahara Africa (SSA).
About 1.38 million new cases and 458 000 deaths are reported worldwide from breast cancer each year (IARC Globocan, 2008). Accurate incidence and mortality rates in SSA are hard to come by, but it is estimated as at 2012 that 133,900 new cases of breast cancer occur yearly in Africa as a whole with 63,000 deaths1. Respective estimates for SSA are 98,000 new cases diagnosed yearly with 48,000 yearly deaths2. These figures are estimated to increase considerably over the next 30 years.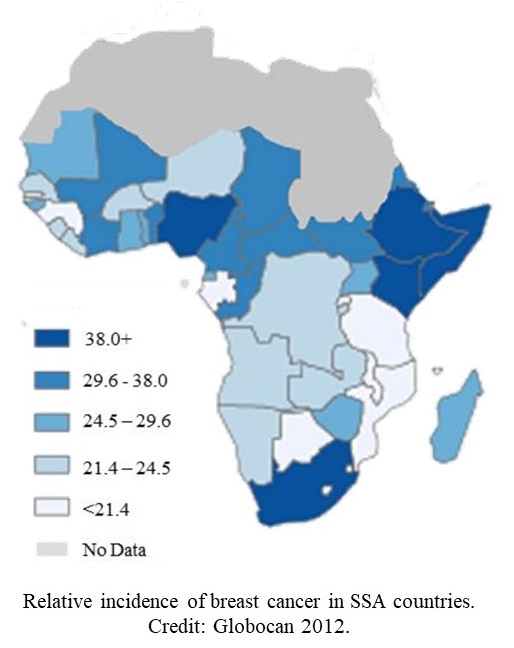 Breast cancer is by far the most common cancer in women worldwide, both in the developed and developing countries. In Africa, the incidence of breast cancer has reportedly been rising steadily in the last decade or more and this has been attributed to increase in life expectancy, increase urbanization, adoption of western lifestyles and exposure to novel and suspected environmental factors like carcinogenic chemicals in hair relaxers and skin bleaches.
Given current state of limited knowledge on the causes of breast cancer, and the late stage of presentation by women with the condition in most African countries, early detection must remains the cornerstone of breast cancer prevention and control strategies in the region.
If breast cancer is detected early, and with adequate access to diagnosis and basic standard of care treatment even by low resource countries standard, there is a good chance that the scourge of breast cancer can be curtailed in Africa. When breast cancer is detected late however, curative treatment is often too expensive and unaffordable to majority of African women so presenting. In such cases, palliative care to relieve the suffering of patients and their families is needed but not also readily available and affordable to the needy.
Although reliable population based data identifying the causes of late stage presentation of breast cancer sufferers in SSA are so far unavailable, it has been proposed that multiple factors like lack of awareness of early detection information, fear of cancer diagnosis, cultural beliefs and practices, cost and other social barriers to health services are at play3.
This situation can be eminently reversed if adequate but basic breast cancer early detection, prevention and treatment programmes are put in place at both country as well as continent-wide levels following well researched need analysis.
Implementing such a programme calls for following recommended actions; (a) Use of multi-lateral platforms as the African Union working in concert with the World Health Organization to push for adoption by governments and country-level health managers of a standardized basic package of public health intervention programme structured around regular and consistent messaging and public health campaign in local languages to increase awareness of early signs and symptoms of the disorder in affected population. (b) Breast self-examination and encouragement of access to screening and treatment services under cost subsidy support from public purse must be bedrock of the public health campaign. (c) A policy commitment by member states to achieve reduction of breast cancer incidence in their respective countries within agreed goals over five year periods will help to provide a platform for comparative evaluation and measure of success at goal accomplishment.
References:
Brinton, L.A., Figueroa, J.D., Awuah, B., et al. Breast Cancer in Sub-Saharan Africa: Opportunities for prevention. Breast Cancer Res Treat. 2014 Apr; 144(3): 467–478.
Clegg-Lampety, J.: Epidemiology of breast cancer in Africa. 2017.
Pace, L.E., and Shulman, L.N., Breast Cancer in Sub-Saharan Africa: Challenges and opportunities to reduce mortality. Oncologist. 2016 Jun; 21(6): 739–744.
Revised: Dec 1, 2019
© 2019. DatelinehealthAfrica. All rights reserved