A new survey has shown that only 34 per cent of Nigerians use condoms for sex.
The survey, titled 'Condom accessibility and use in Nigeria' was carried out by NOIpolls, in partnership with the National Agency for the Control of AIDS (NACA) and AIDS HealthCare Foundation (AHF).
The survey was released to mark the International Condom Day (ICD), which is observed annually on February 13 through Valentine's Day, February 14, to promote safer sex awareness, by encouraging people to use condoms.
Announcing the result in Abuja on Wednesday, the Executive Director of NOIpolls, Chike Nwangwu, said though 83 per cent of Nigerians believe that condoms should be used, only 34 per cent agree that they actually use condoms.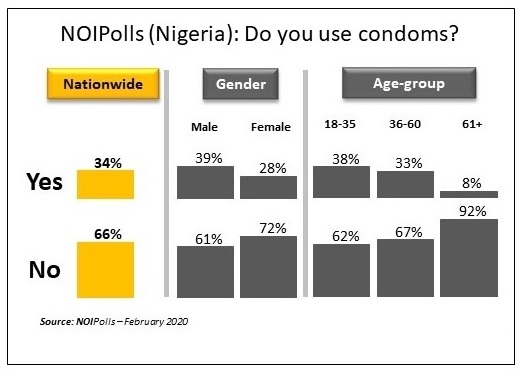 Adapted from: NOIPolls: Condom accessibility and use in Nigeria, 2020
"The findings showed that 92 per cent of Nigerians know about condoms, while 62 per cent perceive that condom is used for sexual pleasure, which is the measure that comes to their mind when they see or hear about condom.
"82 per cent of Nigerians find it easy to purchase condom, 10 per cent find it fairly easy, which makes it a total of 92 per cent, who find it easy to purchase a condom," he said.
He said only 26 per cent use condoms for protection against Sexually Transmitted Diseases (STDs).
Mr Nwangwu said the survey was done using questionnaires and was translated into the four major Nigeria languages; Pidgin, Yoruba, Hausa and Igbo.
He said some of the questions were open-ended and allowed for multiple choice that will give people room for them to express what they want.
NOIPolls is a country-specific polling service in the West African region, in technical partnership with Gallup (USA) to develop opinion research in Nigeria.
Related:
Published:February 16, 2020