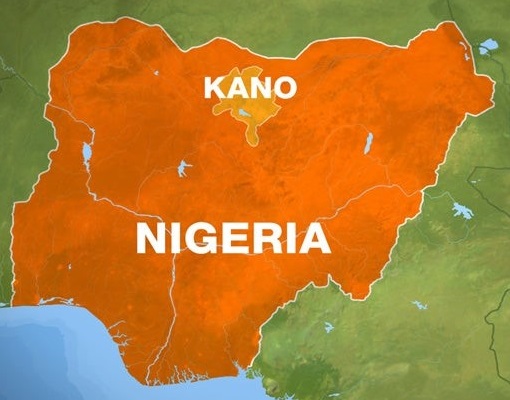 Map of Nigeria, showing location of Kano State
"About 80 percent of the coronavirus test samples received from communities in the state turned out positive for COVID-19." - Nasiru Gwarzo, head of the presidential COVID-19 task force in Kano.
Reports published in 247reports.com, a Nigerian online news source, alleges that the coronavirus situation in Kano State, the commercial hub of northern Nigeria, is dire and threatens to reach breaking point in the not too distant future should corrective measures continue to evade the ancient city.
"The hinterlands of Kano have fallen to the deadly grips of the virus, and people are dying in the 100s daily without access to medical treatment or testing"; writes the report.
Kano city and its metropolis is a constantly rising population currently set at 13.4 million and a population density of 470 persons per square kilometer. The inner cities of Kano have population densities as high as 17,542 persons per square kilometer in Nasarawa LGA and 22,040 persons per square kilometer in Dala LGA among others. Such population densities paints a grim situation for virus spread
One of the sources spoken to by 247reports indicated that almost every household in Feggae LGA has an ill family member – whose diagnosis are unknown but the symptoms point to Covid19. The same is said for Tarauni and Gwale LGAs.
"We are dying every day", says another source who prefers to be referred to as Nasiru. "I am among the people that carry the dead bodies to the cemetery every day. Yesterday, we buried 34". Nasiru resides in Feggae LGA where he is engaged in petty trade. He claims the sickness to be a plan against Muslims of Nigeria.
Posted: 05. 5. 20