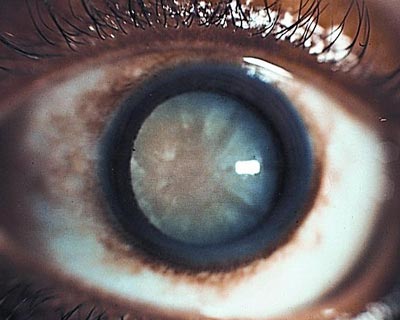 What is cataract?
By: Elizabeth Obigwe. Datelinehealth Africa Volunteer and Freelance Writer, with editorial support from The DLHA Team
A cataract is a clouding of the lens ithat is located in the front part of your eye. It causes vision problems and can eventually lead to blindness.
The lens transmits and bends light onto the inner lining of the eye called the retina. The retina senses light and transmits it to the brain for the purpose of vision.
The lens is made up of special types of proteins (called crystallins. Proteins are large complex molecules that form the basis of body function.
When the crystallins in the lens lose their ordered structure and form clumps, they start to cloud it and cataract occurs.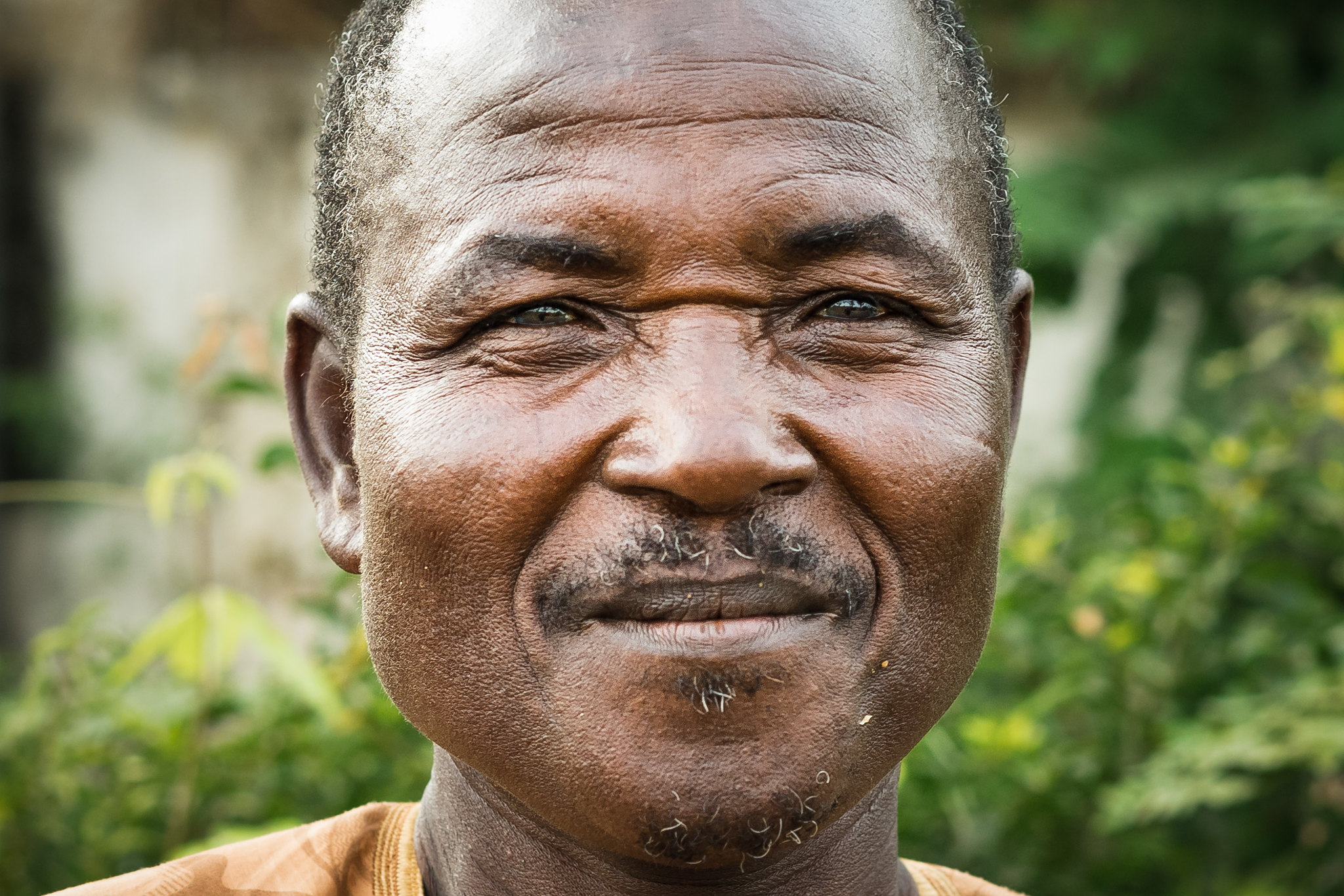 What causes cataracts to form?
The main cause of cataracts is age. Hence, the disease is more common among people 60 years and older.
Other factors that can also cause cataracts to form are:

• Oxidative stress.
This occurs when there's an imbalance between the production of harmful molecules called free radicals, and the body's ability to neutralize them with antioxidants.

• A family history of cataracts

• Diabetes

• Trauma to the eye

• Surgery for eye conditions like glaucoma or other problems with the eyes

• Use of steroids for treating health issues such as arthritis or allergies

• Radiation therapy to treat cancer or other illnesses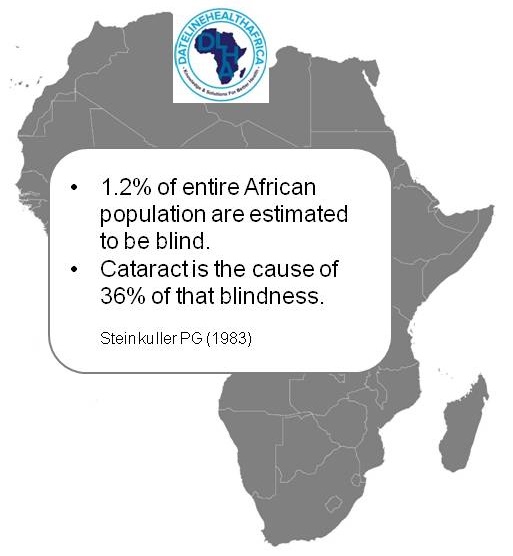 How common is cataracts in Africa
Hospital, clinics and population estimates across Africa indicate that 1.2% of the African population is blind and that cataract accounts for 36% of that blindness. Steinkuller PG. (1983)
So, using 2016 Africa population estimates of 1.216 billion, approximately 5 million Africans are possibly blind due to cataract.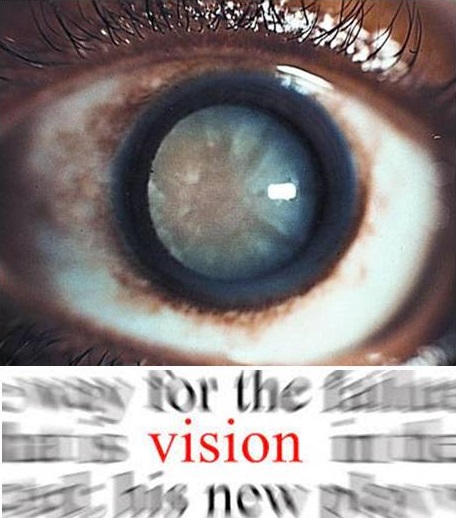 What are the symptoms of cataracts?
There are many symptoms of cataracts. Some of the common ones include
Hazy or Blurry vision.

Colours not looking as bright as they used to.

Reduced vision in low-light conditions.

Finding lights, such as lamps, sunlight, or headlights, too bright to handle.

Noticing halos or rings around lights.

Experiencing double vision (this may disappear as the size of the cataract increases).

Needing to change your glasses or contact lens prescription frequently to see clearly.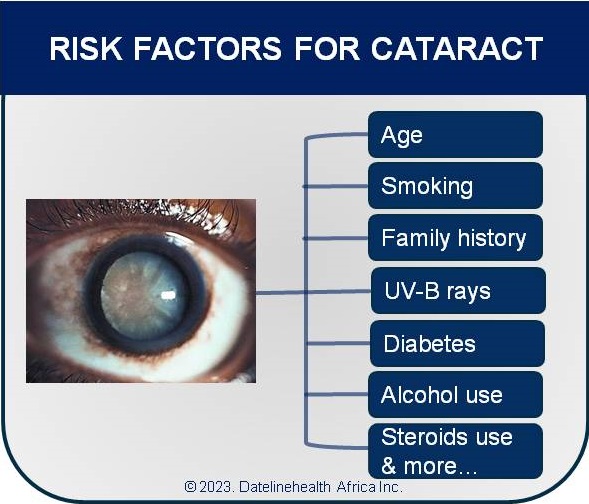 What factors increase my chances of having cataracts?
Some habits and events may make you liable to cataracts. They include;
Smoking

Exposure to ultraviolet rays (UV-B)

Diabetes

Use of steroids

Excessive alcohol consumption

Family history of cataract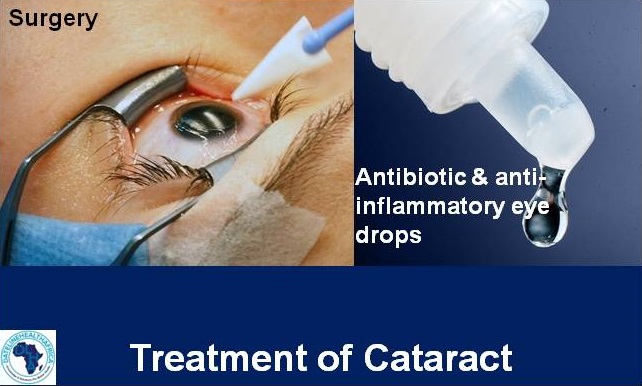 What treatment options are available for cataracts?
The only available treatment for cataracts at the moment is surgery with pre-and post surgical use of antibiotics and anti-inflammatory eye drops. However, there are different types of surgeries used to treat the condition.
Every surgical operation for cataract treatment involves removing the damaged lens and replacing it with an artificial one known as Intraocular Lens (IOL). But the way of getting this done varies depending on the surgical procedure employed.
Extracapsular Cataract Extraction (ECCE) is the method common in developing countries because it is relatively cheaper. While phacoemulsification is the most modern procedure and it is practised mainly in high income countries because of its high cost of treatment.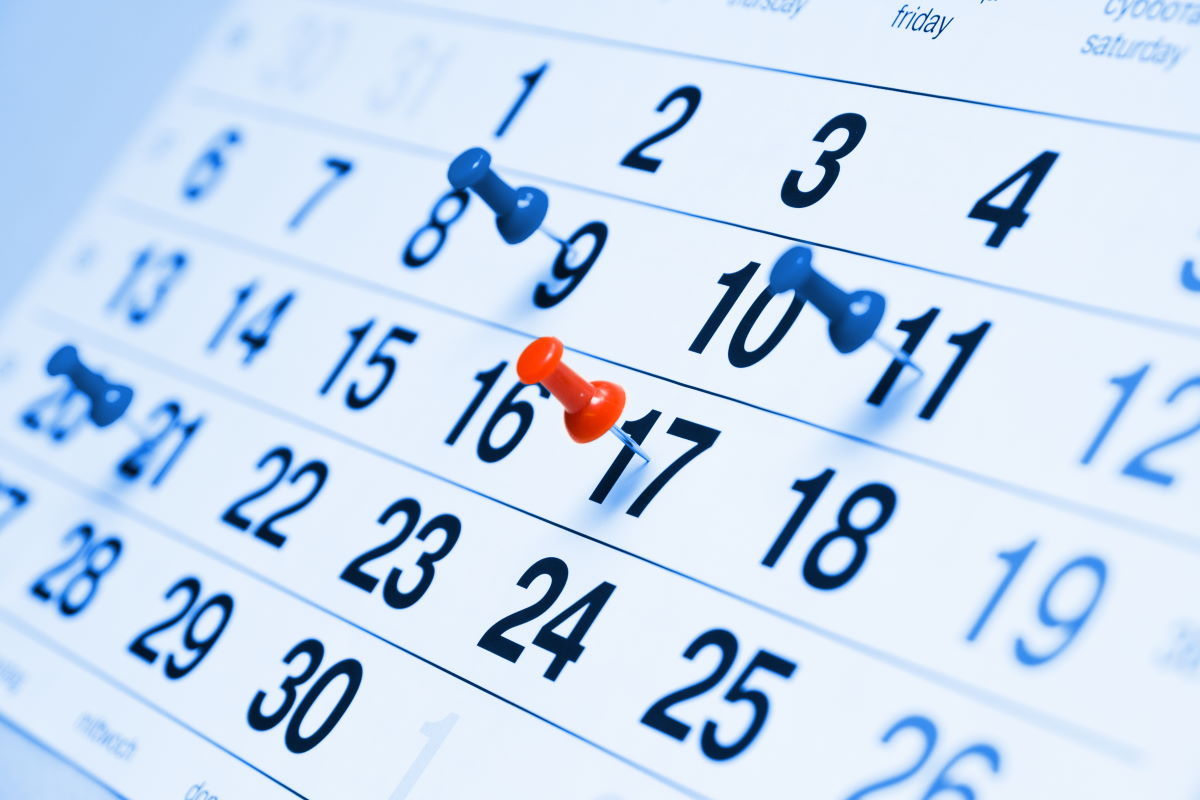 When should a cataract be removed?
Once the cataract starts affecting your ability to perform daily tasks like reading and driving, you should start to consider removing it.
It is better to have cataract surgery early because removing immature cataracts is less complicated and recovery is quicker.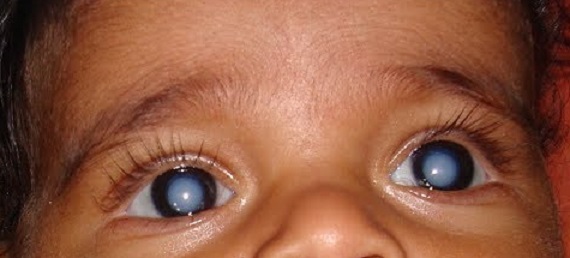 Can cataracts surgery be performed on both eyes at the same time?
Technically, bilateral cataracts can be simultaneously removed at one single operation.
Typically however, cataract surgeries are done on one eye at a time.
First, the surgery is performed on one eye, and then a few weeks later, it is done on the other eye.
The time gap between surgeries allows the first eye to heal before moving on to the second eye.
This approach gives each eye the best chance to recover and for your vision to stabilize.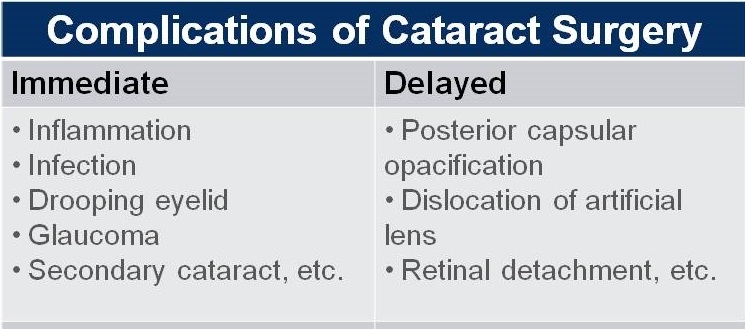 Are there any complications associated with cataract surgery?
Cataract surgery is a safe and effective process with low chances of complications. However, there are some immediate and delayed complications that are associated with the surgery and most of them can be managed.
Immediate complications;
Inflammation

Infection

Drooping eyelid

Glaucoma

Secondary cataract, etc.
Delayed complications;
Posterior capsular opacification

Dislocation of artificial lens

Retinal detachment, etc.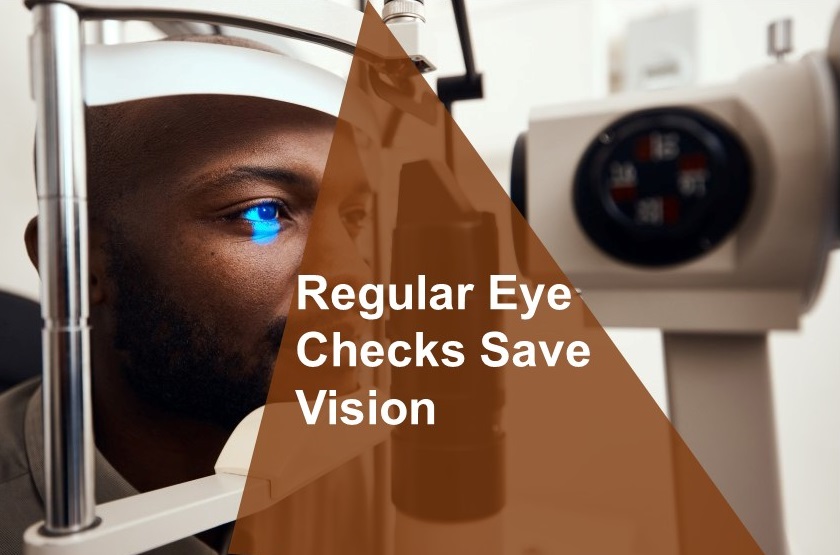 How can I prevent cataract?
There are no studies that have shown conclusively that cataract is preventable. But some measures that doctors recommend to slow the onset and progression of the condition are:
Frequent eye checkups.

Wear sunglasses when you go outside to protect your eyes from the sun's UV-B rays.

Keep medical conditions like diabetes under control to lower your risk of developing cataracts.

Avoid smoking.

Eat fruits and vegetables that are high in antioxidants to keep your eyes healthy.

Maintain a healthy weight to reduce your risk of developing health problems that can lead to cataracts.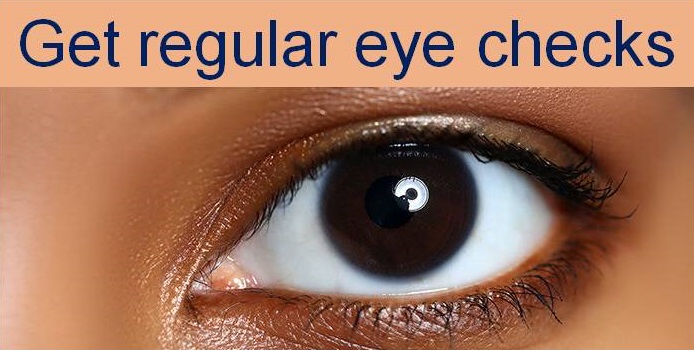 Final words
Cataract is the leading cause of reversible blindness globally including in Africa.
It is estimated to be responsible for up to 5 million cases of moderate or severe vision impairment within Africa.
Although the primary damage caused by the condition cannot be reversed, the good news is that weakened vision can be restored through cataract surgery.
Regular eye checks with discussion with your doctors about the state of your vision are helpful for the determination of the best time to undertake cataract surgery.
Ongoing research is being undertaken to discover more treatment options for the condition.
Related: Cataracts in Africa: Symptoms, Diagnosis and Care
Published: June 16, 2023
© 2023. Datelinehealth Africa Inc. All rights reserved.
Permission is given to copy, use and share content without alteration or modification and subject to attribution as to source.
Disclaimer
DATELINEHEALTH AFRICA INC., is a digital publisher for informational and educational purposes and does not offer personal medical care and advice. If you have a medical problem needing routine or emergency attention, call your doctor or local emergency services immediately, or visit the nearest emergency room or the nearest hospital. You should consult your professional healthcare provider before starting any nutrition, diet, exercise, fitness, medical or wellness program mentioned or referenced in the DatelinehealthAfrica website. Click here for more disclaimer notice.