In Memoriam: Dr. Theodore Chukwunyere Okeahialam
(1931– 2023)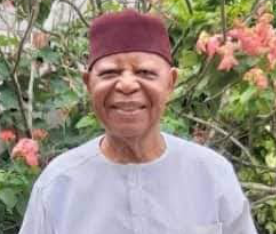 The Paediatric Association of Nigeria announced the death on the 14th of May 2023 at age 81 years of one of its founding fathers, Dr. Theodore Chukwunyere Okeahialam, who was described by the society "as an astute teacher, a great mentor and a gentleman".
Dr. Okeahialam, was born on July 4, 1931 in Ahiara-Mbiase, Imo State, Nigeria to Paul Okeahialam (father) and Eugenia Chileguka (Ihuoma) Okeahialam (mother).
He entered the University of Ibadan as a medical student in 1955 and after his postgraduate training at the Hospital for Sick Children in London, he obtained his Doctorate diploma in Child health and Tropical Medicine and Health in 1962 from the University of London and the Liverpool School of Tropical Medicine respectively.
Dr. Okeahialam devotedly cared for children in many capacities over his working career at the following locations:
Massey Hospital in Lagos (1960-61 and 1964-1966)

Banbury Cross Hospital, Oxfordshire, England (1963)

Libreville, Gabon (1968 -1970)

University of Dar-es-Salam (1970 – 1974)

University of Nigeria College Medicine (1974-1989)

Asir Central Hospital, Ministry Health, Abha, Saudi Arabia, (1989-1994)

And Sarat Abeidah Hospital, Ministry Health, Saudi Arabia since 1995.

Imo State University and Teaching Hospital, Orlu, Imo State, NIGERIA where he was Provost and Consultant Paeditrician respectively.
He also served UNICEF as a Consultant in a part-time capacity from part-time capacity from 1985-1988.
Dr. Okeahialam was recipient of the following awards:
British Commonwealth fellow (1962-1964).

Travenol-Africa health award (1987).

Heinz fellow British Pediatrics Association (1972).

Governor's merit award for services to children Imo State (1988).
His professional association membership were:
Fellow, Royal College Physicians (Edinburgh)

Fellow, Postgraduate Medical College,

Fellow, West African College Physicians.

Member American Association for the Advancement of Science,

Treasurer and President, Pediatric Society Nigeria (1975-1977) and 1978-1979) respectively

Member, New York Academy of Sciences.
The Pediatric Association of Nigeria eulogized the deceased in eloquent words saying: "Prof. Okeahialam was an exceptional individual whose unwavering dedication, remarkable expertise, and compassionate nature made a profound impact on the lives of Nigerian and African children. His pioneering research especially on childhood nutrition during the Nigerian civil war, commitment to excellence, and tireless advocacy for child health have left an indelible mark on paediatric medicine in our sub-region, and indeed the world. As we mourn his loss, let us remember and honor his contributions, carrying forward his legacy by continuing to advance the field of paediatrics and improving the lives of Nigerian children".
The Association further extended its thoughts and prayers to the family of Prof. Okeahialam, as well as all to those whose lives he touched, saying, "May his memory be a source of comfort and inspiration, and may we find solace in the knowledge that his remarkable work will continue to impact the lives of children for years to come".
He was survived by his wife Maria Philomena Dozie, whom he married March 12, 1960 and 4 children.
Source:
Peadiatric Association of Nigeria. Press release. 23rd May 2023. https://pan-ng.org/honoring-the-legacy-of-prof-theodore-chukwunyere-okeahialam/. Accessed May 31, 2023.
Theodore Chukwunyere Okeahialam. https://prabook.com/web/theodore_chukwunyere.okeahialam/473605
Published: June 2, 2023
© 2023. Datelinehealth Africa Inc. All rights reserved.
Permission is given to copy, use and share content without alteration or modification and subject to attribution as to source.