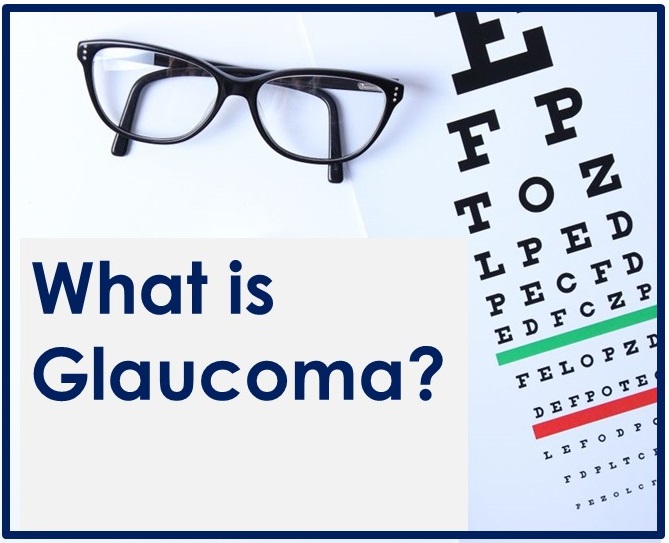 What is Glaucoma?
By: Elizabeth Obigwe. Datelinehealth Africa Volunteer Freelance Writer, with editorial contribution from The Datelinehealth AfricaTeam.
Glaucoma is a group of eye conditions that is caused by a buildup of fluid pressure in the eye.
It can affect one or both eyes.
All races get glaucoma, but it is more common in Africans and a few other races. Globally, people who are above the age of 60 years are more likely to have the condition. Younger Africans with advanced eye damage from glaucoma are sometimes seen.
The condition damages the optic nerve (the nerve which sends images to the brain), causing progressive or in some cases sudden damage that eventually leads to blindness.
Glaucoma is a public health problem and one of the leading causes of blindness in Sub-Saharan Africa.
Early detection and treatment help to prevent or slow vision loss.
Unfortunately, vision loss that has occurred from glaucoma typically cannot be reversed.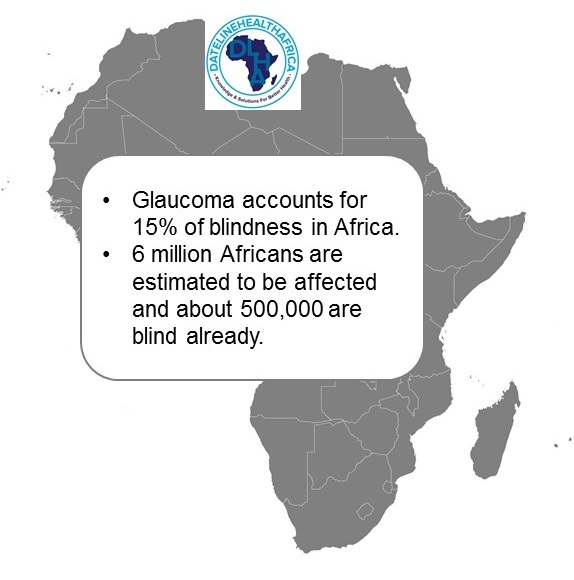 Is glaucoma common in Africa?
Up to 6 million Africans are estimated to be affected by the disorder and about half a million are already blind. Glaucoma accounts for 15% of blindness in Africa. Unfortunately, many people with this disease do not know that they have it. This is why the condition is called "The Silent Thief of Vision". The World Health Organization (WHO) says that up to 7.7 million global cases would have been prevented or are yet to be diagnosed.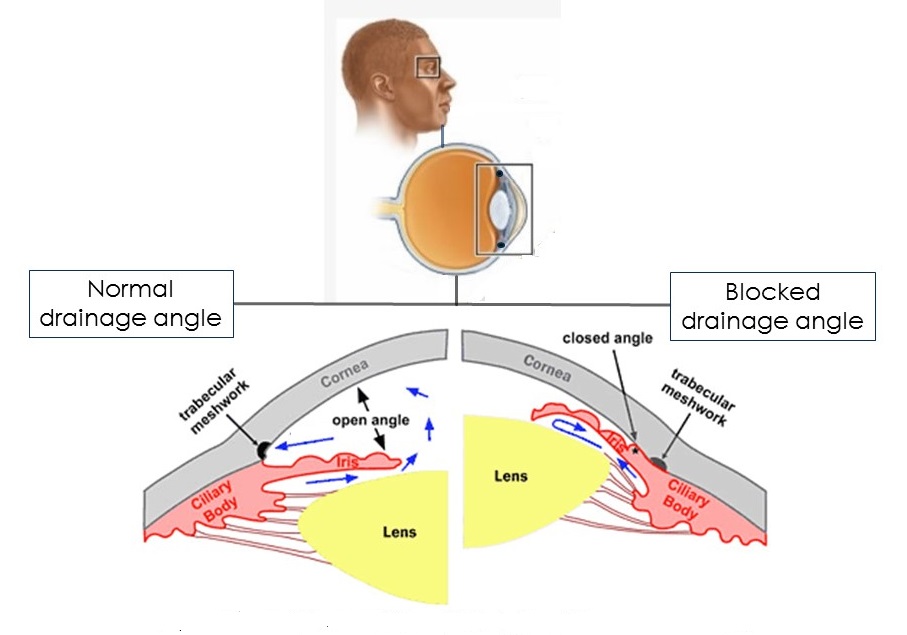 What causes glaucoma?
Usually, the eye produces and drains the same amount of a fluid called aqueous humour through the drainage angle in the eye.
The drainage angle is the junction between the iris (the coloured part of the eye) and the sclera (the white part of the eye).
If the drainage angle stops functioning properly or there is excess production of the fluid than can be drained, then aqueous humour builds up, and the pressure inside the eye will rise.
When not identified and treated early, a rise in eye pressure will eventually damage the optic nerve, which carries information from the eyeball into the brain.
Normal eye pressure is between 10 to 21 mm Hg.
Eye pressure in glaucoma may rise as high as 70 mm Hg.
In general however, pressures of 20-30 mm Hg usually cause damage over several years, but pressures of 40-50 mm Hg can cause rapid visual loss and also precipitate compression (occlusion) of the vessels that supply and drain blood from inside the eye.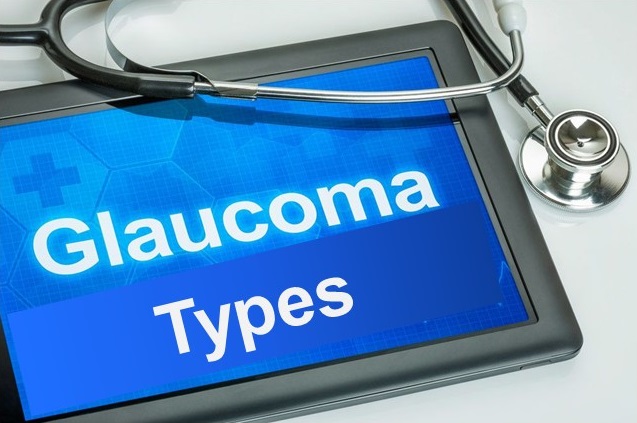 Types of glaucoma
There are different types of glaucoma. The most common type in Africa and globally is:
Open Angle Glaucoma (OAG)
In this form of glaucoma , also called Wide angle Glaucoma (WAG), the drainage angle that is formed by the iris (the black part of the eye in Africans) and the cornea (the transparent covering over the front of the eye) remains open. But the other parts of the drainage channels do not drain properly. For this reason, a slow and gradual increase in eye pressure occurs and glaucoma eventually results.
Another type with the most sudden and severe damage is:
Angle closure glaucoma (also known as Narrow Angle Glaucoma)
This form of glaucoma occurs when the iris bulges towards the front of the eye. This causes partial or complete blockage of the drainage angle. As a result, fluid can't circulate through the eye and pressure increases. Angle-closure glaucoma may occur suddenly or gradually.
Other types include:
Normal tension glaucoma

Secondary glaucoma.

Congenital glaucoma
You can learn more about types of glaucoma from the Datelinehealth Africa website (www.datelinehealthafrica.org/glaucoma-in-africa-the-silent-thief-of-vision).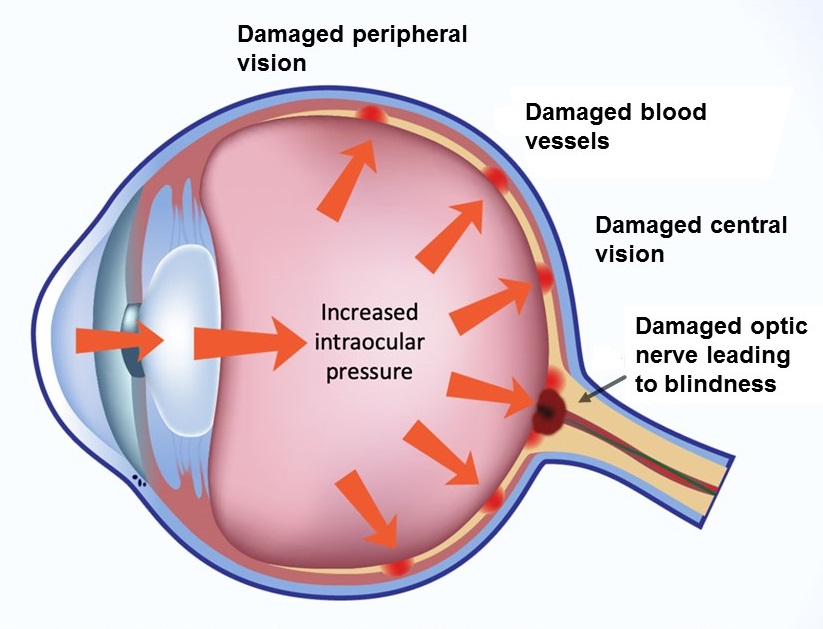 What happens to the eye of a person with glaucoma?
Due to the buildup of aqueous fluid, glaucoma causes damage to the following parts of the eye:
The inner lining which contains structures that make us see (i.e., process vision);

Vessels that supply the inner lining; and

The optic nerve.
The damage caused by glaucoma results in loss of peripheral (surround) and central (best) vision.
Sometimes, an increase in eye pressure and damage to the optic nerve occur for other reasons beyond buildup of fluid in the eye. Scientists are yet to discover the cause of this.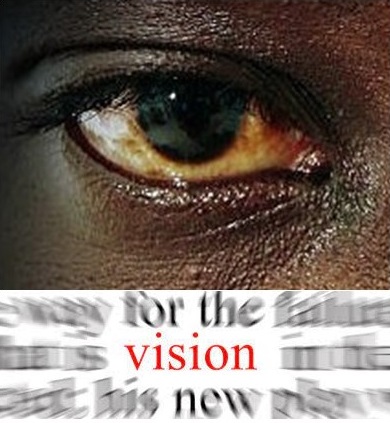 How do I know that I have glaucoma?
The symptoms of glaucoma may differ depending on the type.
Open-angle glaucoma has no symptoms in its early stage but over a prolonged duration without treatment, it results in reduced vision or total blindness.
Some of the symptoms of angle-closure and congenital glaucoma are:
Headache.

Blurred vision.

Eye pain, and

Red/dull eyes.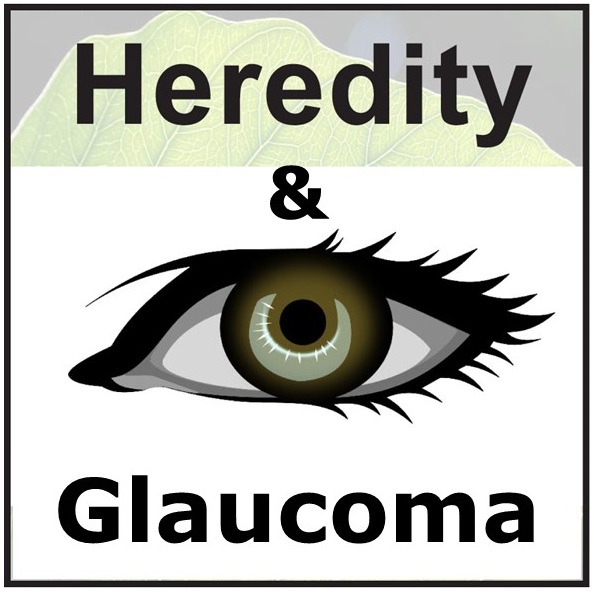 Can glaucoma be inherited?

If a member of your family has glaucoma, it increases your chances of suffering from it too. If the person is a first-degree relative (brother, sister or parent), the chances are higher than if the person is a distant relative.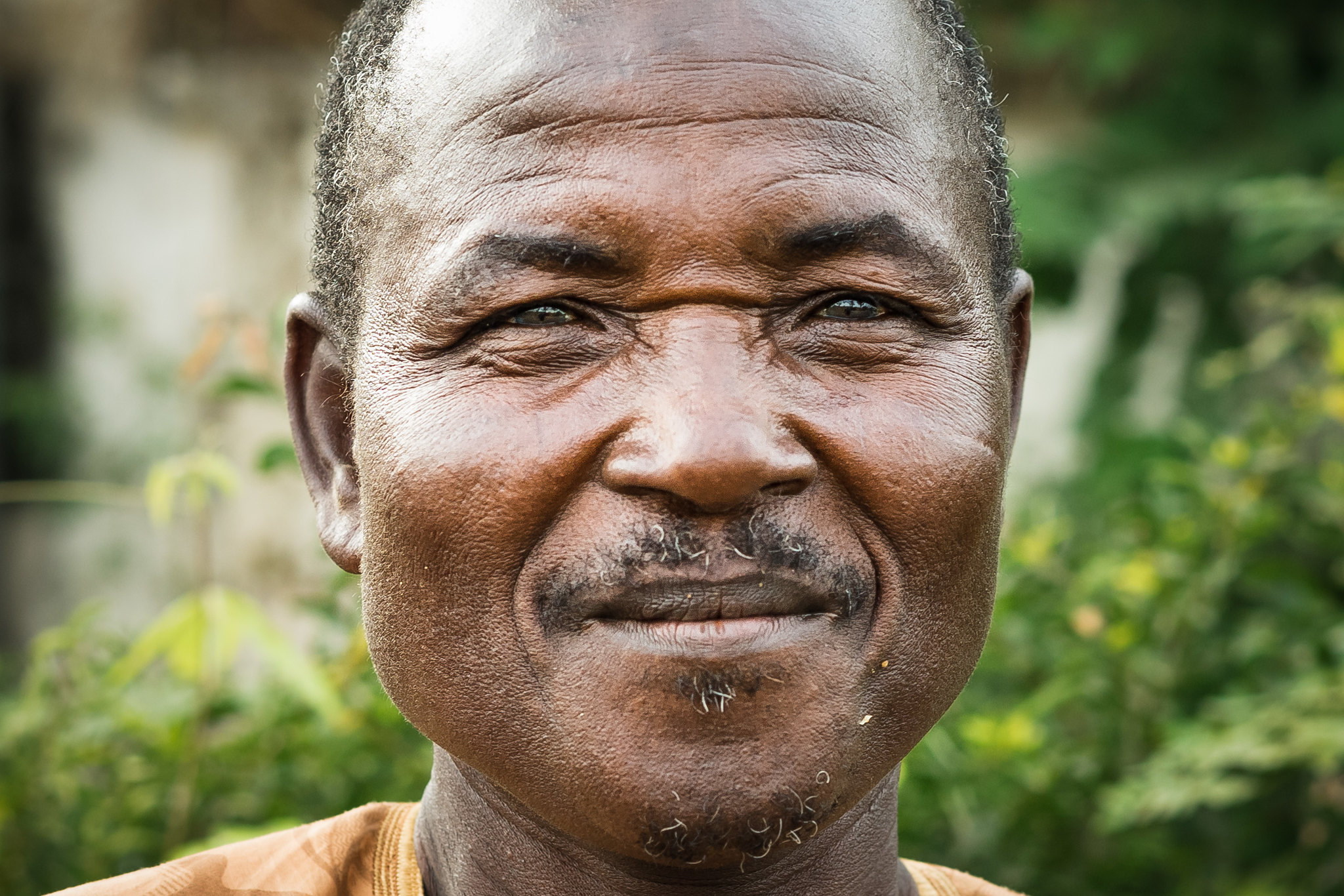 What are the risk factors for glaucoma?
The risk factors for glaucoma include:
Age: 60 years old and above. But some affected Africans are more likely to be younger and have more severe damage to the eye.

Race: Blacks. Asian and Hispanics.

High eye pressure for whatever reason.

Family history: First relatives.

Trauma, including certain eye surgery.

Inflammation.

Medications: Prolonged use of corticosteroids (tablets or eye drops).

Extreme short-sightedness or far-sightedness.

Systemic disorders (e.g., diabetes, hypertension and migraine).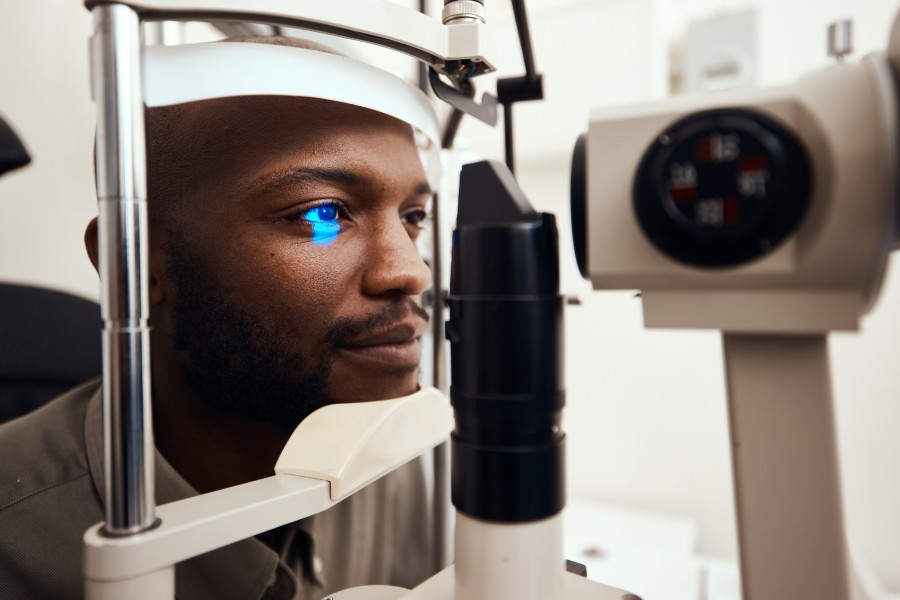 How is glaucoma diagnosed?
Glaucoma is diagnosed following an eye examination by an eye doctor. Because the condition often does not show any symptoms until vision begins to go bad, it is important to undergo regular eye exam yearly for early detection.
Your doctor may perform different tests in the process of examining your eyes for a diagnosis of glaucoma. One of these is a test to measure the fluid pressure in your eye.
To perform this test, your eye doctor will do the following:
Apply pain numbing and then dye eye drops into your eyes.
A special equipment is then used to touch the front of your eyeball in order to measure the pressure within the eye ball.
Alternatively, a puff of air may be directed at your eye in the process of measuring the pressure.
Your eye doctor may also use a special lighted microscope to look into your eye.
Learn more about glaucoma diagnosis from the Datelinehealth Africa website ((www.datelinehealthafrica.org/glaucoma-in-africa-the-silent-thief-of-vision)..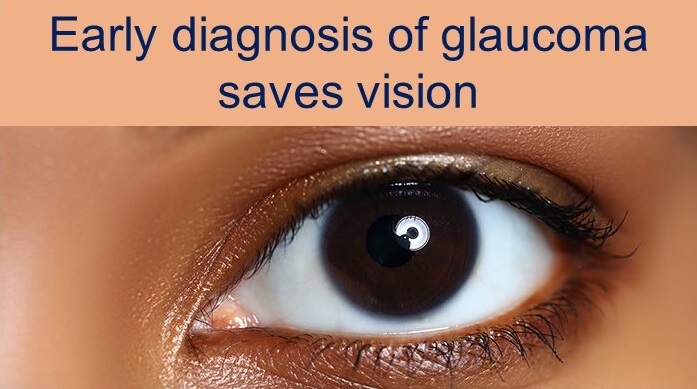 Why is it important to diagnose glaucoma early?
Glaucoma gets worse over time and results in irreversible blindness. If your doctor is able to diagnose the condition early, it will save you from significant eye damage.
It is very important to be mindful that early diagnosis of glaucoma saves vision.
Unfortunately, many people, including those who are at risk of glaucoma in Africa do not go for routine eye checkups.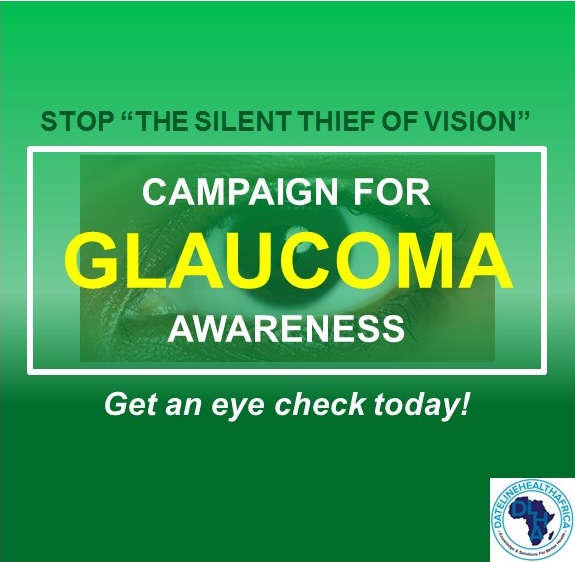 How can glaucoma be prevented?
There is no known way to prevent glaucoma.
However, regular eye checkups can help detect the condition early and offer you the chance to prevent it from worsening through proper care..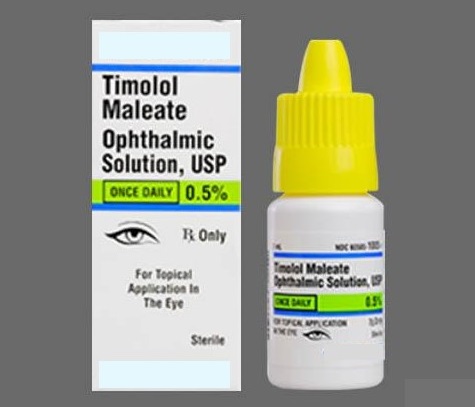 How is Glaucoma treated?
Glaucoma is treated using a combination of these approaches:
Oral medication or eye drop.

Laser procedure (using a strong beam of light).

Surgery (there are different surgical procedures).
Your doctor will examine your eyes to determine which of the treatment options is best for you and may offer you more than one treatment method if need be.
Final words
Early awareness of your risk factors, plus early diagnosis during regular eye checks with your doctor or optometrist are the keys to early identification and or slowing the vison loss caused by glaucoma.
Published: May 5, 2023
© 2023. Datelinehealth Africa Inc. All rights reserved.
Permission is given to copy, use and share content without alteration or modification and subject to attribution as to source.
Disclaimer.
DATELINEHEALTH AFRICA INC., is a digital publisher for informational and educational purposes and does not offer personal medical care and advice. If you have a medical problem needing routine or emergency attention, call your doctor or local emergency services immediately, or visit the nearest emergency room or the nearest hospital. You should consult your professional healthcare provider before starting any nutrition, diet, exercise, fitness, medical or wellness program mentioned or referenced in the DatelinehealthAfrica website. Click here for more disclaimer notice.