Dengue in Chad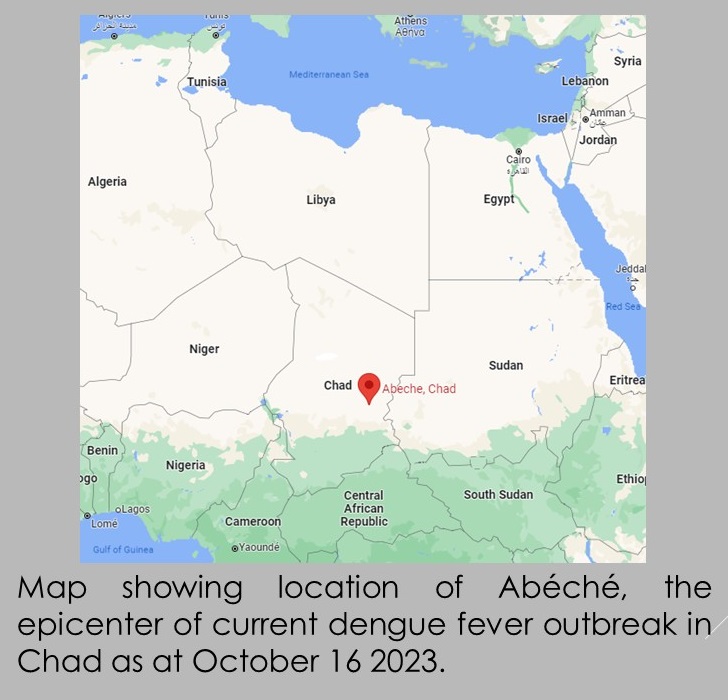 Click on image to enlarge
On 15 August 2023, a dengue outbreak was declared by the Ministry of Public Health and Prevention in Chad.
As of 1 October, there have been 1 342 suspected cases, including 41 confirmed cases reported across eight health districts in four provinces. Among the confirmed cases, one death was reported.
Abéché health district in Ouaddaï province, is the current epicentre of the outbreak. The Ministry of Public Health and Prevention has initiated a number of key response activities by implementing, in collaboration with WHO and partners, the national contingency plan for dengue preparedness and response.
Dengue is a viral infection transmitted to humans through the bite of infected mosquitoes. Many dengue infections produce only mild flu-like illness and over 80% of cases are asymptomatic. There is no specific treatment for dengue; however, timely detection of cases and appropriate case management are key elements of care to prevent severity and fatality of dengue.
This is the first dengue outbreak reported in Chad, and the country has limited surveillance, clinical and laboratory capabilities.
Given the favorable environmental conditions for mosquito spread, an ongoing humanitarian crisis due to a massive influx of refugees and returnees from Sudan and limited response capacities, WHO assesses the risk posed by this outbreak as high at the national level.
Learn more about Dengue
Get more Diseases Outbreak News in Africa
Re-posted: October 16, 2023
© 2023. Datelinehealth Africa Inc. All rights reserved.
Permission is given to copy, use and share content without alteration or modification and subject to attribution as to source