Colon cancer: How is it diagnosed?
If you experience one of more of the symptoms that may indicate colon cancer and they persist for more than four weeks, you are best advised to visit your doctor.
Your doctor will take a full history from you and may decide to:
Use a special equipment (scope) to examine the inside of your colon (colonoscopy). Colonoscopy uses a long, flexible and slender tube attached to a video camera and monitor to view your entire colon and bottom (rectum). If any suspicious areas are found, your doctor can pass surgical tools through the tube to take tissue samples (biopsies) for analysis and remove polyps.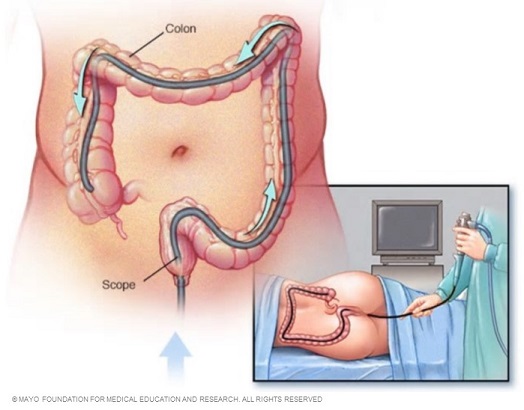 Colonoscopy: During a colonoscopy, the doctor inserts a colonoscope into your rectum to check for abnormalities in your entire colon. Image credit: Mayo Clinic.
Arrange for you to have additional blood and other tests in hospital to make sure there's no serious cause of your symptoms. For example, your doctor may test your blood for a chemical sometimes produced by colon cancers (carcinoembryonic antigen, or CEA). Tracked over time, the level of CEA in your blood may help your doctor understand your prognosis and whether your cancer is responding to treatment.
Determining the extent of your cancer?
If you've been diagnosed with colon cancer, your doctor may recommend tests to determine the extent (stage) of your cancer. Staging helps determine what treatments are most appropriate for you.
In many cases, the stage of your cancer may not be fully determined until after colon cancer surgery, but tests used in staging may include imaging procedures such as abdominal, pelvic and chest CT scans.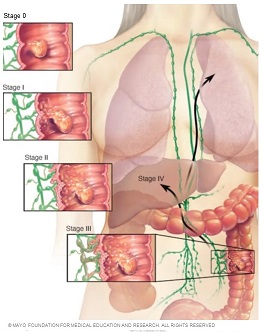 Colon cancer staging: At its earliest stage (stage 0), colon cancer is limited to the inner lining of your colon. As colon cancer progresses, it can grow through your colon and extend to nearby structures. The most advanced stage of colon cancer (stage IV) indicates cancer has spread to other areas of the body, such as the liver or lungs. Image credit: Mayo Clinic
The stages of colon cancer are indicated by Roman numerals that range from 0 to IV, with the lowest stages indicating cancer that is limited to the lining of the inside of the colon. By stage IV, the cancer is considered advanced and has spread (metastasized) to other areas of the body.
Treatment of colon cancer
Treatment options offered for colon cancer varies with the location of the cancer, the stage of the disease and other co-existing medical conditions at time of diagnosis.
Generally, treatment for colon cancer usually involves surgery to remove the cancer. Other treatments, such as radiation therapy and chemotherapy, might also be recommended.
Surgery for early-stage colon cancer
If your colon cancer is very small, your doctor may recommend a minimally invasive approach to surgery, such as:
Removing polyps during a colonoscopy (polypectomy). If your cancer is small, localized, completely contained within a polyp and in a very early stage, your doctor may be able to remove it completely during a colonoscopy.
Endoscopic mucosal resection. Larger polyps might be removed during colonoscopy using special tools to remove the polyp and a small amount of the inner lining of the colon in a procedure called an endoscopic mucosal resection.
Minimally invasive surgery (laparoscopic surgery). Polyps that can't be removed during a colonoscopy may be removed using laparoscopic surgery. In this procedure, your surgeon performs the operation through several small incisions in your abdominal wall, inserting instruments with attached cameras that display your colon on a video monitor. The surgeon may also take samples from lymph nodes in the area where the cancer is located.
Surgery for more advanced colon cancer
Partial colectomy
If the cancer has grown into or through your colon, your surgeon may recommend:
Colonic resection: During partial colectomy (resection of colon), the doctor will cut off the part of the colon containing the cancer along with margin of normal tissue on either side. The cut ends of the colon may be reconnected during the surgery or later at another surgery.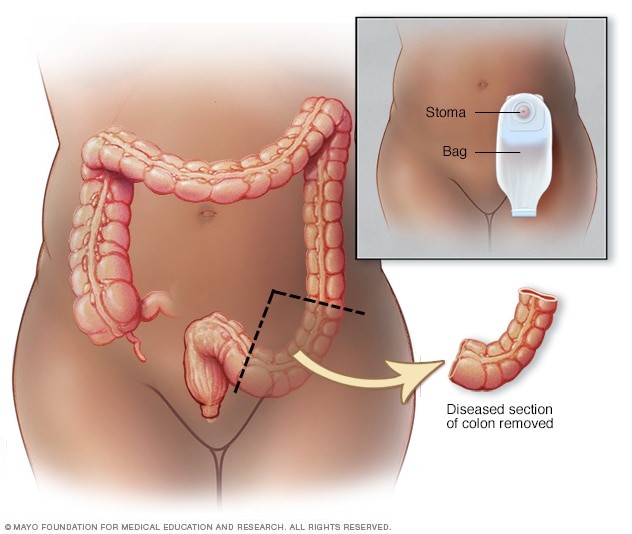 Partial colectomy. showing resected area of colon (sigmoid) containing the cancer along with margin of normal tissue on either side. sigmoi colon. When the free margins are not sewn back immediately, an ostomy is commonly created to serve as temporay evacuation for stool. Image credit: Mayo Clinic.
Partial colectomy. During this procedure, the surgeon removes the part of your colon that contains the cancer, along with a margin of normal tissue on either side of the cancer. Your surgeon is often able to reconnect the healthy portions of your colon or rectum. This procedure can commonly be done by a minimally invasive approach (laparoscopy) or through open abdominal surgery (laparotomy).
Surgery to create a way for waste to leave your body. When it's not possible to reconnect the healthy portions of your colon or rectum, you may need an ostomy. This involves creating an opening in the wall of your abdomen from a portion of the remaining bowel for the elimination of stool into a bag that fits securely over the opening.
Sometimes the ostomy is only temporary, allowing your colon or rectum time to heal after surgery. In some cases, however, the colostomy may be permanent.
Lymph node removal. Nearby lymph nodes are usually also removed during colon cancer surgery and tested for cancer.
Surgery for advanced cancer
If your cancer is very advanced or your overall health very poor, your surgeon may recommend an operation to relieve a blockage of your colon or other conditions in order to improve your symptoms. This surgery isn't done to cure cancer, but instead to relieve signs and symptoms, such as a blockage, bleeding or pain.
In specific cases where the cancer has spread only to the liver or lung but your overall health is otherwise good, your doctor may recommend surgery or other localized treatments to remove the cancer. Chemotherapy may be used before or after this type of procedure. This approach provides a chance to be free of cancer over the long term.
Chemotherapy
Chemotherapy uses drugs to destroy cancer cells. Chemotherapy for colon cancer is usually given after surgery if the cancer is larger or has spread to the lymph nodes. In this way, chemotherapy may kill any cancer cells that remain in the body and help reduce the risk of cancer recurrence.
Radiation therapy
Radiation therapy uses powerful energy sources, such as X-rays and protons, to kill cancer cells. It might be used to shrink a large cancer before an operation so that it can be removed more easily.
When surgery isn't an option, radiation therapy might be used to relieve symptoms, such as pain. Sometimes radiation is combined with chemotherapy.
Targeted drug therapy
Immunotherapy
Immunotherapy is a drug treatment that uses your immune system to fight cancer. Your body's disease-fighting immune system may not attack your cancer because the cancer cells produce proteins that blind the immune system cells from recognizing the cancer cells. Immunotherapy works by interfering with that process.
Supportive (palliative) care
Palliative care is medical care that focuses on providing relief from pain and other symptoms of a serious illness. Palliative care is provided by a team of doctors, nurses and other specially trained professionals that work with you, your family and your other doctors to provide an extra layer of support that complements your ongoing care.
Reference

Published: February 22, 2020