Aderonke Kale, Psychiatrist and the first female Major General in the Nigerian Army, dies at 84
DLHA Staff Writer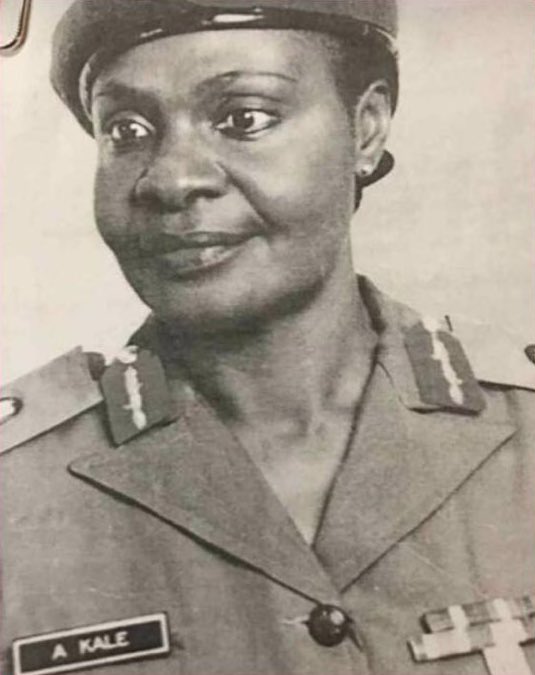 Major General (Dr.) Aderomke Kale. Psychiatrist and Ist Female Major General, Nigerian Army.
Dr. Aderonke Kale, the first female Major General in the Nigerian Army and in the West Africa sub-region, and the first female Commandant, Nigerian Army Medical Corp, died in Lomdon on November 8, 2023 aged 84.
Early Life & Education
Adenike was born on July 31, 1939, and attended primary school in Lagos and Zaria. She also had her secondary education at St. Anne's School, Ibadan, and Abeokuta Grammar School. She later read medicine at the University College, Ibadan in the Western Region of Nigeria which later became the University of Ibadan.
Her father was a pharmacist and her mother was a teacher. Her praise-worthy success in her medical cum military career must be considered epitomes of the worthy educational investment she benefitted from her parents.
Career
After her graduation as a medical doctor, she proceeded to the University of London to specialize in Psychiatry and worked briefly in Britain before returning to Nigeria in 1971, She joined the Nigerian Army as a doctor and soldier in 1972.
Her career path to the pinnacle of her service appointments in the Nigerian Army include:
1973: Appointment as a Consultant Psychiatrist, Nigerian Army
1982: Chief Consultant, Nigerian Army
1980 – 1985: Commanding Officer of the Nigerian Army Military Hospital in Ibadan, Oyo State
1985-1987: Commanding Officer of the Nigerian Army Military Hospital, Enugu, Enugu State
1989 to 1990: Commanding Officer of the Nigerian Army Military Hospital, Benin, Edo State
1990: Became Brigadier General
1991 – 1994: Served as the Deputy Commandant, Nigerian Army Medical Corps and School in Lagos. Lagos State
1994: Promoted to the rank of Major General
1994 – 1997: Served as the Commandant, Nigerian Army Medical Corps and School in Lagos, Lagos State
1997: She retired from the Nigerian Army
Social and Professional Engagements
Besides her exemplary services in the Nigerian Military, Major General Adenike Kale engaged meritoriously with various professional organisations and contributed to the growth of the Nigerian Medical Council, the West African College of Physicians, the Institute of Management Consultants, the Nigerian Medical Association, the Association of Psychiatrists in Nigeria, and the World Psychiatrists Association. She also contributed to the field of psychiatry in particular by presenting seminal papers at different national and international programmes.
Tributes
General Kale's exemplary life and passing has evinced recognition and accolades up to the highest level of leadership in the country.
Speaking in praise of General Kale, sometime in 2012, former President of Nigeria, President Olusegun Obasanjo, himself a retired General and former Military Head of State spoke in eloquent terms that, "Gen. Kale did not get laid back because she is a woman. She stood the test of time, competed, fought, and remained resolute until she got to the top. I think that, in itself, is a great commendation."
The Chief of Army Staff, Lt. Gen. Taoreed Lagbaja paid glowing tribute to the deceased female military officer, and first female officer of the Nigerian army to attain the enviable height of Major General. According to Lagbaja, General Kale was a shining veteran who exuded unequalled commitment, diligence, and unquestionable loyalty to the army and the nation. She also praised her for "reshaping the face of women and gender mainstreaming in the Nigerian military,"
Also, in a condolence message to her family, the current President of Nigeria, Bola Tinubu described the death of Kale as a painful loss to the country, while he sympathized with her family, the Nigerian Army, and the society of medical practitioners in Nigeria on the passing away of one of their own
President Tinubu identified and praised General Kale as a pioneer in her field and profession and said that the late major general "embodied the courage, professionalism, capacity, and resilience of the Nigerian woman"
The President prayed for the repose of the soul of the late officer and encouraged her beloved family to take solace in the peerless legacy she left behind.
Family
Adenike Kale was married to Professor Oladele Olusiji Kale, Foundation Dean, School of Public health and a distinguished and retired Professor of Public Health College of Medicine, University of Ibadan, Ibadan, Oyo State, Nigeria, She was a mother of five sons. One of her sons, Opeyemi Kale, was appointed the Statistician-General and Chief Executive Officer of the National Bureau of Statistics from 201 - 2021.
Sources:
Dawn Commission. [Internet archived page. N.d.] General Aderonke Kale (Rtd) – Nigeria's First Lady Army General. Accessed Nov. 13. 2023
The Cable, "PROFILE: Kale, the statistician who broke a 24-year jinx to drag Nigeria closer to Vision 2020". [Internet 21 October 2016] Accessed 13 November 2023.
Adepega, A. Kale: Pacesetting military Amazon takes last salute, bows into eternity. Punch Nigeria Newspaper. [Internet. 13 November 2023]. Accessed 13. Nov. 2023.
Published: Novvember 13, 2023
© 2023. Datelinehealth Africa Inc. All rights reserved.
Permission is given to copy, use and share content without alteration or modification and subject to attribution as to source.