Obituary: Dr. Enitan Bolutito Odutola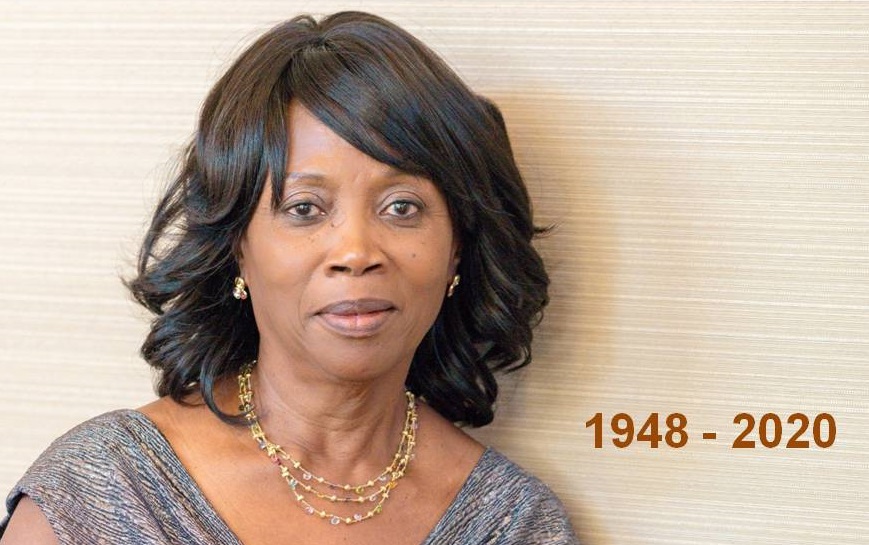 Dr. Enitan Bolutito ODUTOLA (Nee Ogunfowora)
The woods decay, the woods decay and fall,
The vapours weep their burthen to the ground,
Man comes and tills the fields and lies beneath,
And after many a summer dies the swan.
- Alfred Lord Tennyson
Dr. Enitan Bolutito Odutola, 72, of Wilmington, Delaware lived a bountiful life and - after many a summer (in the words of Tennyson) - passed away on November 13th 2020 at the Christiana Care Hospital in Newark, Delaware, USA at 2.05 pm EST.
Parents
Enitan, popularly called "Dr. O" by many of her young friends and mentees was born in Lagos, Nigeria to Papa Daniel Odumowu Ogunfowora and Madam Gbemisola Ogunfowora on April 24, 1948.
Education
She attended kindergarten and elementary school at Children's Home School and United Missionary Church School in Ibadan, Nigeria respectively; Secondary and Higher school at Queen's School, Ede, Nigeria and Ibadan Grammar School, Ibadan, Nigeria also respectively before she got admitted in 1965 into the premier University of Ibadan, Ibadan, Nigeria for premed and eventually her medical education.
Enitan graduated as a physician in 1972 and married Akintola Odutola, her fellow classmate in medical school on July 7, 1973.
Professional Training
Enitan had her compulsory pre-licensing training as a House Officer at the Lagos University Teaching Hospital, Lagos, Nigeria and then started her residency training in Radiology moving through the traditional stages as Senior House Officer, Registrar I and II and Senior Registrar at the University College Hospital, Ibadan, Nigeria, and the Royal Victoria Infirmary, Newcastle-upon-Tyne. UK. She spent a year in 1976 as a Guest of the Radiology department, Shalgrenska University Hospital, Goteborg, Sweden and became a Diplomate of the Royal College of Radiology, London, UK in 1979. She was admitted as a Fellow of the West African College of Surgeons (Radiology) in 1982.
Employment
Enitan's post-residency work life spanned over 40 years. She was appointed as a Lecturer II (Assistant Professor) in the Department of Radiology of the College of Medicine, University of Lagos and Consultant Radiologist at the Lagos University Teaching Hospital, Lagos, Nigeria in 1980. Enitan co-founded Union Medical Services, a general practice and specialty Surgery and Diagnostic Radiology services with her husband in 1984 and served as the Chief Operating Officer. In her later life she worked for nearly 13 years as a professor in two medical schools in the Caribbean, teaching Radiological Anatomy and Clinical Skills to medical students of diverse multi-country origins that included Americans, Canadians, East Asians, Eastern Europeans, Africans and Afro-Caribbeans.
Family
Enitan is survived by her husband, Akintola, to whom she was married for a little over 47 years. She is also survived by a daughter, Olufunke Temitope; two sons, Akintola and Olusegun; a son-in-law, David Aderemi, a daughter-in-law, Stephanie and a fiancée-in-law, Jesse. Also surviving Enitan are four grandchildren, Danielle Oluwatosin, Samantha Anjeolaoluwa, Akintola Hunter and Akintayo Sebastian.
Other siblings and relatives surviving her include three sisters, several nieces, nephews, cousins and large groups of friends, former classmates, and former professional workmates with whom she maintained contact across three continents.
Gratitude
Enitan's family wishes to extend sincere thanks to many healthcare professionals at the Christiana Care Hospital, Newark, Delaware, USA who took care of her during her brief illness and to her many Church family members at Victory Christian Fellowship, New Castle, Delaware, Glorious Light Christian Ministries, Paulsboro, New Jersey, Redeemed Christian Church of God, New Castle, Delaware, USA and Nigeria respectively and the Eden Browne Church of God, Nevis, West Indies. Not forgotten in thanks are her Christian families, friends, and professional colleagues in Dominica and St Kitts and Nevis whose path crossed hers during her lifetime.
Philantropy
Like her mother did before her, championing philanthropy for Motherless babies in her native land of Ibadan, Nigeria, Enitan left a legacy of quiet, long standing self-sacrifice, courage and love for charitable giving in the service of others, especially poor and underprivileged children in the Caribbean as well as in Nigeria. Also given her rich experience breaking through several glass ceilings during her student years and throughout her career, she dedicated a substantial part of her professional life to providing counseling and academic success advisement to medical students that passed through her generally and the females especially.
Giving
In lieu of flowers and wreaths, and for the purpose of continuing her legacy of charitable giving and other services, her family has set up the Enitan Bolutito Odutola Memorial Fund to which all gifts and donations should please be directed.
The fund will be managed transparently through a Foundation to be set up in her name and in accordance with applicable US Federal and State laws.
Funeral arrangements:
Service of Songs*: November 23, 2020, 5:00 pm. - 6:00 pm (EST).
Virtual only.
Organized by: Glorious Light Christian Ministries, Paulsboro, New Jersey.
*Live stream from here.
Visitation*: November 24, 2020, 9.00 am. - 11.00 am. (EST).
Limited in-person file past only.
Hand sanitazing and mask wearing are mandatory. Social distancing and other COVID-19 associated public health protocols are required to assure the safety and health of all attendees.
Location: Victory Christian Fellowship
100 Wilson Blvd, New Castle
New Castle, Delaware, 19720.
Need Directions? Use Google Maps.
Online streaming is not available for this event.
Celebration of Life*: November 24, 2020, 11.00 am – 12.00 pm. (EST).
Opportunity for in-person attendance is limited.
Due to COVID-19 related State restrictions on in-person gathering indoors, physical attendance is not guaranteed and online viewing/streaming is highly recommended.
Location: Victory Christian Fellowship
100 Wilson Blvd, New Castle
New Castle, Delaware, 19720
Need Directions? Use Google Maps.
*Live stream here
Click here for Order of Funeral Service
Interment: November 24, 2020 at 12.30 pm. EST.
(Family only)*
Location: All Saints Cemetery, Wilmington, Delaware, 19808
Need Directions? Use Google Maps.
*Online streaming is not available for this event.
Disclaimer and Waiver of Liability: Admitted persons attending any of the funeral events are required to mask up and observe all anti-Covid public health measures. In addition, all admitted persons assume all physical and health related liabilities arising and knowingly and lawfully release the family of the deceased from any and all liability for unintentional exposure or harm due to COVID-19.
November 20, 2020. Minor updates done Nov. 21.
© 2020. DatelinehealthAfrica Inc. All rights reserved.