Hamburger and fries
Consuming a western diet for as little as one week can subtly impair brain function and encourage slim and otherwise healthy young people to overeat, scientists claim.
Researchers found that after seven days on a high fat, high added sugar diet, volunteers in their 20s scored worse on memory tests and found junk food more desirable immediately after they had finished a meal.
The finding suggests that a western diet makes it harder for people to regulate their appetite, and points to disruption in a brain region called the hippocampus as the possible cause.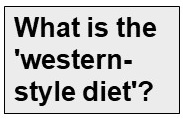 "After a week on a western-style diet, palatable food such as snacks and chocolate becomes more desirable when you are full," said Richard Stevenson, a professor of psychology at Macquarie University in Sydney. "This will make it harder to resist, leading you to eat more, which in turn generates more damage to the hippocampus and a vicious cycle of overeating."
Published: February 22, 2020