Nigerian politician jailed in UK over organ trafficking plot
Judge says Ike Ekweremadu was 'driving force' in scheme to take kidney for his sick daughter from man brought to London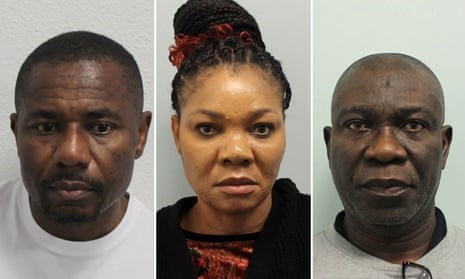 The jailed Nigerian defendants in the organ trafficking case..
From L-R: Dr. Obinna Obeta (51). Mrs. Beatrce Ekweremadu (56) and Mr. Ike Ekweremadu (60). Photo credit: Metropolitan Police.
Friday, 5 May 2023. London. Ike Ekweremadu, 60, a former deputy president of the Nigerian senate and a senior Nigerian politician has been sentenced to nine years and eight months in prison in the UK for being the "driving force", according to the presiding judge, in a plot to harvest a kidney for his sick daughter from a young man he had trafficked to London.
Ike Ekweremadu, his wife, Beatrice, 56, and Dr Obinna Obeta, 51, were found guilty by an Old Bailey jury in March in the first organ trafficking conviction under the Modern Slavery Act, 2015.
They were found to have conspired to bring a 21-year-old Lagos street trader to a private renal unit at London's Royal Free hospital as a potential kidney donor for Ekweremadu's daughter Sonia.
Related: Nigerian politician, wife and a doctor guilty of organ trafficking to UK
In his sentencing remarks on Friday, Mr. Justice Jeremy Johnson, said all three conspirators played a part in a "despicable trade". He said: "The harvesting of human organs is a form of slavery. It treats human beings and their bodies as commodities to be bought and sold."
Mr. Justice Johnson pointed out that Ike Ekweremadu had been part of the Nigerian senate when it outlawed organ trafficking.
Addressing Ekweremadu the judge said: "You played a leading role in the offending. You did so in order to secure the material advantage, namely a human kidney for your daughter. I am sure that you were the driving force throughout." He added: "Your conviction represents a very substantial fall from grace."
Read the full story here
Reference: UK Public General Act. Modern Slavery Act, 2015 Chapter 30.