Nigerian politician, wife, and a doctor guilty of organ trafficking to UK
The three were convicted of conspiring to exploit a man for his kidney in the first verdict of its kind under Modern Slavery Act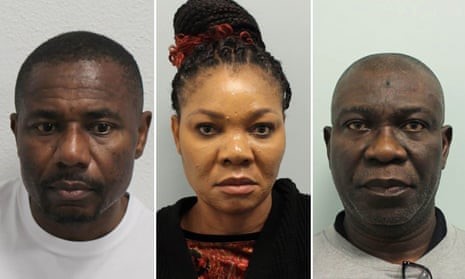 The Nigerian defendants in the organ trafficking case.
From L-R: Dr. Obinna Obeta (51). Mrs. Beatrce Ekweremadu (56) and Mr. Ike Ekweremadu (60). Photo credit: Metropolitan Police
March 23, 2023. London, UK. A senior Nigerian politician, his wife, and a doctor have been convicted of organ trafficking, in the first verdict of its kind under the UK Modern Slavery Act., 2015.
Ike Ekweremadu, 60, a former deputy president of the Nigerian senate, his wife, Beatrice, 56, and Dr Obinna Obeta, 51, were found guilty of facilitating the travel of a young man to Britain with a view to his exploitation after a six-week trial at the Old Bailey.
They criminally conspired to bring the 21-year-old Lagos street trader to London to exploit him for his kidney, the jury found.
The man, who cannot be named for legal reasons, had been offered an illegal reward to become a donor for Sonia Ekweremadu, the senator's daughter after kidney disease forced her to drop out of a master's degree in film at Newcastle University, the court heard.
Sonia Ekweremadu was found not guilty. She cried in court as her parents were sent down from the dock.
In February 2022 the man was falsely presented to a private renal unit at Royal Free hospital in London as Sonia's cousin in a failed attempt to persuade medics to carry out an £80,000 transplant. For a fee, a medical secretary at the hospital acted as an Igbo translator between the man and the doctors to help try to convince them he was an altruistic donor, the court heard.
The prosecutor, Hugh Davies KC presented WhatsApp messages to the court which revealed Obeta charged Ekweremadu 4.5m naira (about £8,000) made up of an "agent fee" and a "donor fee".
Ekweremadu and Obeta admitted falsely claiming the man was Sonia's cousin in his visa application and in documents presented to the hospital.
While it is lawful to donate a kidney, it becomes criminal in the United Kingdom if there is a reward of money or other material advantage.
The prosecution has confirmed the maximum sentence in the organ trafficking case is one of life.
All the defendants denied the charges.
The judge, Mr Justice Jeremy Johnson, will pass sentence on 5 May.
Ike Ekweremadu was sentenced by the presiding judge, Mr. Justice Jeremy Johnson at the Old Bailey Court, London on Friday May 5, 2023, to nine years and eight months, two thirds of which must be spent in prison.
Ike Ekweremadu's wife, Beatrice Ekweremadu was sentenced to four years and six months, with half spent in custody.
Dr. Obinna Obeta, who helped organise the organ harvesting plot after himself receiving a kidney transplant at the Royal Free in July 2021 from another man allegedly trafficked from Nigeria, was sentenced to 10 years, two-thirds of which must be served in prison.
Story has been updated May 5, 2023 to detail the sentencing of the defendants.
Related: Nigerian politician jailed in UK over organ trafficking plot.
Sources:
UK Public General Act. Modern Slavery Act, 2015 Chapter 30.